For families in the Downtown Eastside, affordable housing is vanishing
[ad_1]

Union Gospel Mission's Women & Families Centre is open and filling an essential gap in intergenerational care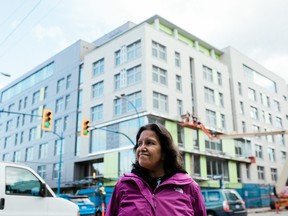 Article content
Vancouver's Downtown Eastside neighbourhood is a challenging place to be a child.
Article content
Nearly 80 per cent of children in the DTES are living at or below the poverty line — the majority in single-parent, woman-led households. For low-income families, Vancouver's competitive rental market presents a very real hurdle to building community and making ends meet. The average three-bedroom space rents for over $4,000, a price far out of reach for many families in the area.
One building, newly opened on Cordova Street, is working to address the existing gap in services available for the neighbourhood's most vulnerable families. Union Gospel Mission's Women & Families Centre accepted its first program participants and tenants in January, and is offering women and children a safe and secure home.
For current Union Gospel Mission (UGM) employee Sandra Pronteau, the centre reminds her of her own experiences as a single parent.
Article content
"I wish they had this when I was a young mom. I probably would have used it," says Pronteau, whose recovery journey eventually led to her working at UGM. "I know when I see some of these girls come in, I see a little bit of me in them."
The newly opened, 77,000-square-foot building  features a mix of living spaces, with 63 housing units for women and children. The Sanctuary, a unique recovery program designed specifically for women, will operate out of the building, and encompasses transitional housing, stabilization and supportive recovery programming. With trauma-informed counselling services and child care on site, the Women & Families Centre prioritizes a holistic, wraparound continuum of care that will lift up mothers and families.
Article content
"This building will help turn the tides for hundreds of families over the coming years," says Tara MacDonald, Director of UGM's Women & Families Centre. "It's a doorway of hope for mothers looking to enter recovery and keep their families together, and a place of care and stability for children and teens."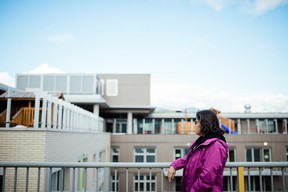 UGM currently is the only organization in the DTES that provides full-time services for women with infants in their care, giving space for them to maintain a recovery-centred life and build a foundation for their future. Families can make the building home for up to five years, relieving the pressure of rising inflation and housing insecurity in the midst of a housing crisis.
"Without safe, secure, stable and affordable housing, it's difficult for women to make major changes in their lives," notes MacDonald. "But when they have sustained support, women who've struggled significantly with addiction, poverty and homelessness have the same rate of life success as people who've never experienced addiction. They can regain custody of their children, they can begin to dream again."
Article content
The centre also aims to honour the neighbourhood's myriad cultural heritages, with designated spaces built to support the Downtown Eastside's Indigenous women and families. An Elder's Room holds space for training and workshops, and children can enjoy the centre's play areas and outdoor courtyard. Resources at the centre are designed to be culturally informed and welcoming.
"At the end of the day, we're working to interrupt generational trauma by helping women to access their agency and power while they feel seen, heard, and well equipped," says MacDonald. "When families are supported, they can go from struggling to flourishing. And that impact flows out to the whole community."
Partner with UGM to support Metro Vancouver's women, children, and seniors. Visit UGM.ca/support-families.
This story was provided by Union Gospel Mission for commercial purposes.
[ad_2]

Source link