Housing growth tumbles as runaway inflation dogs industry, bellwether report says | News
[ad_1]

Purchasing managers are reporting a growth slowdown in construction as subdued consumer confidence and concerns about the economic outlook take hold.
Business activity expectations at construction companies are at their least upbeat since August 2020, while the rise in housing activity in May was its weakest since the first covid lockdown two years ago.
According to latest S&P Global / CIPS UK Construction PMI report, the drop in housebuilding was the main brake on growth, with this index down 3.1 points on April and close to slipping into decline with a score of just 50.7 – where a figure of 50 marks no change. This was the sector's worst performance since May 2020, during the height of the first covid lockdown when much of the industry was shut down.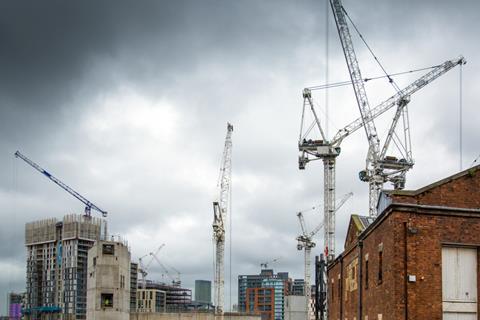 The headline figure for the index overall – which measures month-on-month changes in total industry activity – was 56.4 in May, down from 58.2 in April and the lowest reading for four months.
Tim Moore, economics director at S&P Global Market Intelligence, said the near stagnation of residential construction activity came amid "signs of softer demand and a headwind from low consumer confidence".
He added: "Concerns about the business outlook were signalled by a fall in construction sector growth projections to the lowest for more than one-and-a-half years in May.
"Around 19% of construction firms predict an outright decline in business activity during the year ahead, up from just 5% at the start of 2022."
Higher borrowing costs and intense inflationary pressures were cited by survey respondents as factors likely to hold back growth over the next 12 months. 73% of respondents reported a rise in purchasing prices in May.
Max Jones, director in Lloyds Bank's infrastructure and construction team, said contractors were "increasingly concerned" about the impact of inflation on growth.
"This is driving discussions about how businesses can best insulate themselves from the challenges it poses – from hedging on certain material costs through to exploring opportunities to raise funds ahead of any broader economic squeeze and having better visibility over cashflow," he added.
Trends and prices data dashboard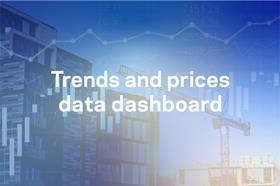 Your one-stop-shop for the all the latest price changes and trends in the building materials, energy, housing and construction labour markets.
Building's trends and prices data dashboard pulls together figures from 14 different datasets into easy-to-use line graphs, bar charts and animated visualisations.
Click here to access 
He said more contractors were beginning to adopt innovations and efficiencies already in play across other industries in an attempt to tackle inflationary pressures.
Mark Robinson, group chief executive at procurement body Scape, said the figures painted a "concerning picture", given construction's traditional position as a bellwether for the wider UK economy.
"It's vital that we sustain the momentum and goodwill built up during recent months as the reality of price increases continues to take centre stage," he said.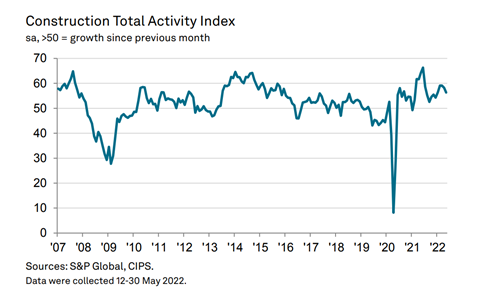 "Ensuring the pipeline of community-led regenerative construction remains strong will require first-class project management and client engagement to encourage the public sector to press on with the delivery of projects during the challenging times ahead."
Commercial building and civil engineering were the bright spots in May's index, the former being the fastest growing sub-sector last month, growing only slightly slower than in April.
Civil engineering activity increased for a fifth month running, though the latest increase in new work was still the slowest since December 2021.
There were positive signals for supplier performance, with delays the least widespread since February 2020, and some firms noted an improvement in product availability despite ongoing logistics bottlenecks, Brexit trade frictions and supplier staff shortages.
Job creation accelerated slightly in May and was the strongest for four months, as firms tried to boost capacity and meet rising customer demand.
But there were widespread reports of recruitment difficulties due to a shortage of skilled workers.
[ad_2]

Source link