'Nowhere else to go': Yellowstone National Park wrestles with employee housing challenges | Yellowstone National Park
[ad_1]

YELLOWSTONE NATIONAL PARK — Thirty-two new modular homes dot the Young Adult Conservation Corps Camp just beyond the terraces of Mammoth Hot Springs. The units opened up to seasonal employees of Yellowstone National Park early in May, replacing substandard, 40 to 60-year-old trailers.
Improvements were needed. Brian Yablonski, chief executive officer of the Property and Environment Research Center, said that when he walked into one of the old trailers in the spring of 2019, he saw evidence of rodents and mold.
"It was just one of those things where when you walk in — and it's just an embarrassment to the country," said Cam Sholly, superintendent of Yellowstone. "I'd rather sleep on the hood of a Humvee, honestly, than some of these trailers that were here."
The National Park Service removed the trailers at Mammoth and installed modulars within two years, despite challenges related to the COVID-19 pandemic, material backlogs and a mess of decades-old underground utilities.
Montana's Republican U.S. Sen. Steve Daines and Montana's Republican U.S. Rep. Matt Rosendale toured one of the cabins late last month. It was their first stop on a trip to see the reopening of Dunraven Pass to the public. The road was under construction for two years.
Employees who live in the park's new one-bedroom and two-bedroom modulars have access to their own bedroom, their own bathroom, a kitchen, a large porch and a washer and dryer. The units are energy-efficient, affordable to build, and they'll last a long time, Sholly said.
"I grew up in the building business. In fact, in the Gallatin Valley, my mom and dad launched a construction business back in 1972," Daines told Sholly. "One of my quick takeaways here — this is not a housing project. You've built a community here."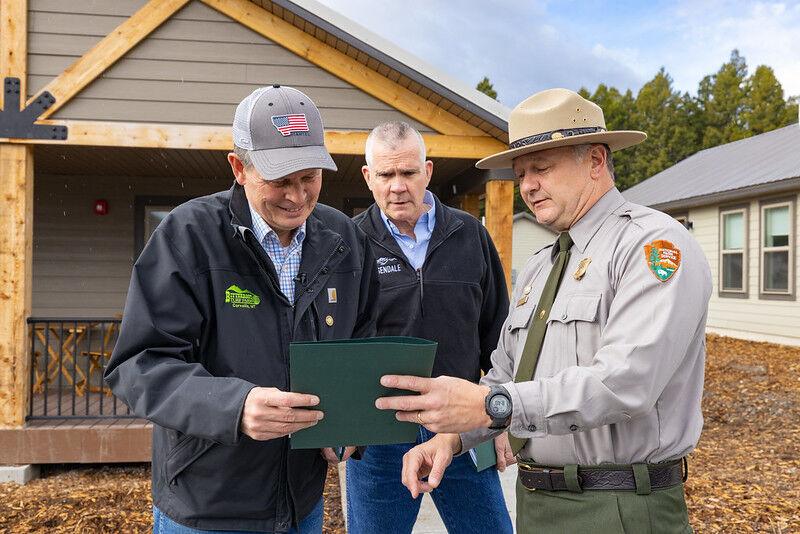 In addition to the units near Mammoth, park employees are moving into 10 new modulars at Old Faithful. Another two have been installed at Bechler, and 21 more are being built throughout the park, around Yellowstone Lake and West Yellowstone.
"We have a million people a month in July and August and 30,000 in January. That seasonal workforce is here during the critical periods of time. To have them work as hard as they do and come back to trailers or substandard housing — it's a recipe for people to leave or not come here at all," Sholly said.
Replacing obsolete trailers with modulars is one goal in Yellowstone's four-pronged, multimillion dollar housing improvement strategy, initiated in 2020. The plan is aimed toward helping the park to attract and retain talent, especially as visitation rises and the cost of homes in gateway towns increases.
Officials have made progress on three goals in the strategy — replacing trailers with modulars, upgrading non-trailer employee housing park-wide, and rehabilitating historic homes with Great American Outdoors Act funding.
Daines was a champion of the bipartisan bill, signed by former U.S. president Donald Trump in 2020. It has provided land management agencies like the National Park Service with more than $9.5 billion in funds to address deferred maintenance needs on public lands.
Yellowstone National Park has been a major benefactor. Park staff are using millions of dollars freed up through the bill to improve infrastructure and restore historic housing structures, including Laurel Dorm at Old Faithful and Fort Yellowstone — a National Historic Landmark.
As the top Republican in the Senate's National Parks Subcommittee, Daines is now looking to "build upon the good work that we've already done" by finding "more solutions to the housing issues faced in parks as well as gateway communities."
He and Sen. Angus King, an independent from Maine, introduced the Gateway Community and Recreation Enhancement Act to the Senate this February. The bill's aim is to address the impacts of increasing visitation to public lands on gateway towns.
The bill passed the Committee on Energy and Natural Resources on National Parks in May, and it now awaits a vote on the Senate floor.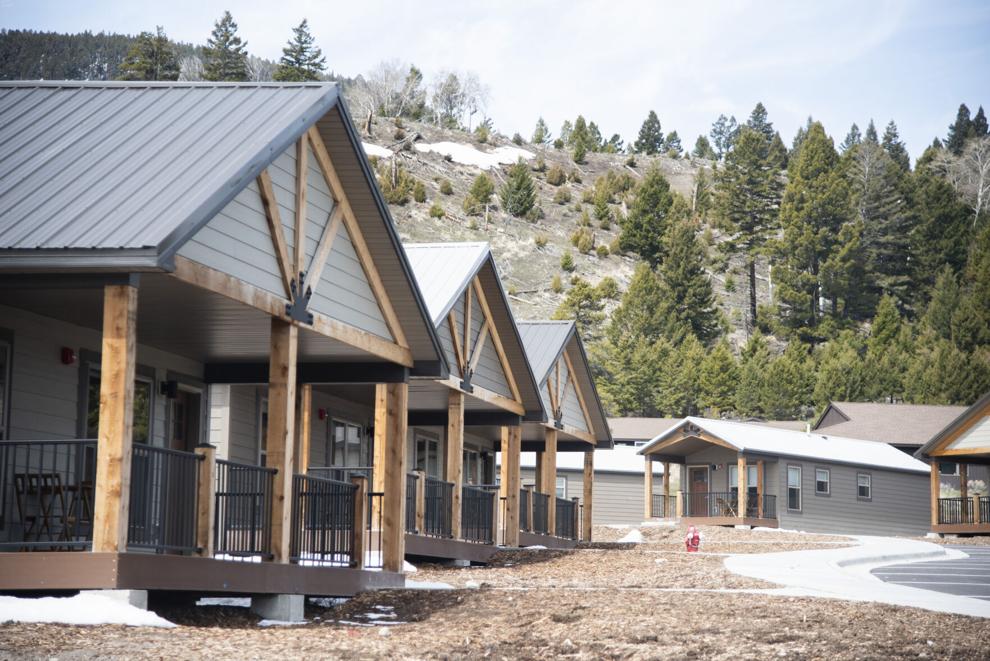 Approximately 40% of Yellowstone National Park's whole housing inventory has been improved in the last three years. During a ribbon-cutting ceremony in mid-May, Superintendent Sholly said that's a huge success, but there is still a long way to go.
"If you're part of the 40% who are living in housing that's been improved, you're happy. If you're part of the 60% who are living in housing that hasn't, maybe you're not," he said.
Three goals in Yellowstone's housing improvement strategy are coming along, but the fourth goal — to add new housing capacity for park employees — has proven more difficult. During a phone interview in February, Sholly called the situation "a train wreck unfolding in front of our faces, as we speak."
About 100 permanent, year-round employees who work in Mammoth own homes in Gardiner. They bought those homes in the late 1990s or early 2000s, when housing there was affordable. About 60 of those employees are expected to retire within the next few years.
Staff members who fill those vacant positions will need a place to live, but most homes in Gardiner are too expensive, and there are no rentals to be found within the vicinity of the park.
"The previous strategy has been to chase the cheapest community, and that's not working here," Sholly said. Real estate prices are booming in Bozeman, Livingston, West Yellowstone, Cooke City and Gardiner, and "there is nowhere else to go."
The park service has been analyzing which job positions need to be based in Yellowstone and which do not, Sholly said. Some employees could be eligible to work remotely, but for lots of workers — like snow plow drivers, firefighters and janitors — telework is not an option.
Yellowstone's employee recruitment and retention challenges are compounded by the fact that visitation to the park is increasing, and additional employees will be needed to manage the impacts of that growth in the years to come.
"It's essential to not only be able to recruit high quality talent into the park, but to retain them," Sholly said. "If you don't have good housing, you're not going to have the caliber, the quality or the number of people required to manage over 4 million visits per year."
The national park broke its annual visitation record last year, counting close to 4.9 million recreation visits. The 2021 numbers were up 25% from the 3.8 million visits counted in 2020, but park staff are confident they were significantly inflated due to the method used to track recreation visits.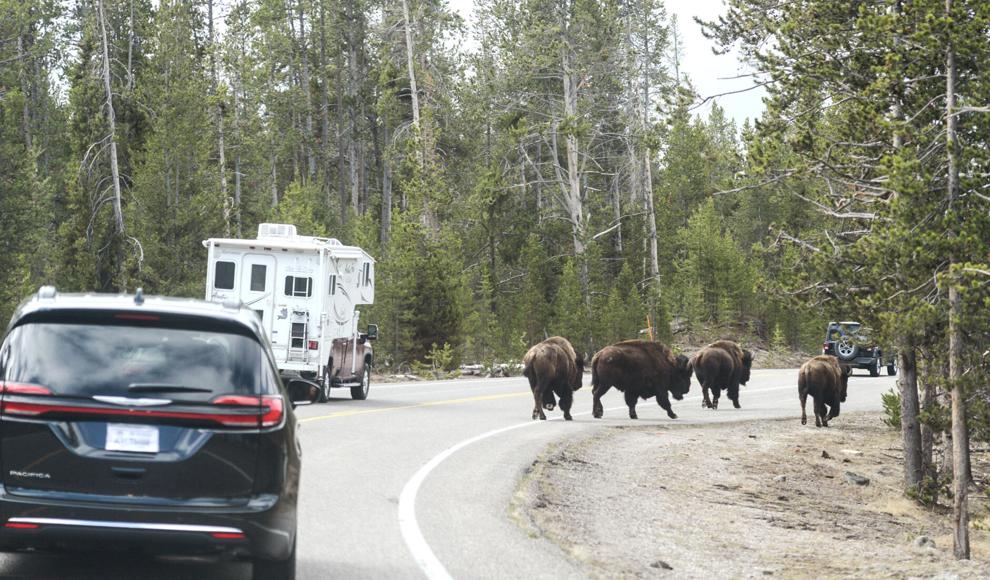 Despite the discrepancy in numbers, the overall trend is that visitation to Yellowstone is rising, and the park's options for expanding housing in developed areas are limited. Options for providing employees with housing in gateway towns like Gardiner are also limited.
Median home prices in Gardiner are more than double the national average, and much of the rental market surrounding the park has transitioned to short-term rentals, making year-round options nearly non-existent.
Gardiner and other gateway towns around the park are also largely surrounded by national forest, which means there isn't much room for them to expand to meet the park's growing demand for employee housing, according to Sholly.
Park staff are actively talking with partners in Gardiner about future affordable housing options, he said. They'll never expand the park's developed areas, but there are parts of those areas where they might be able to add capacity.
The bipartisan Gateway Community and Recreation Act introduced by Sen. Daines and Sen. King proposes to study the strain that sky-high visitation places on national parks and the gateway towns that surround them.
The bill would direct the U.S. Secretary of Agriculture Tom Vilsack and U.S. Secretary of the Interior Deb Haaland to make public lands visitation data more publicly available, boosting information about lesser-known recreation sites. The goal is to disperse visitors to less-traveled areas.
It also calls on the Department of the Interior and Forest Service to establish a visitation pilot program, where officials would identify how trends in public lands visitation are impacting gateway towns and seek out solutions.
The federal agencies would collaborate with state, local and tribal governments, nonprofits, trade associations and other entities "to improve the understanding of the economic impacts of visitation on gateway communities" and to identify the needs associated with those impacts.
Housing shortages, demands on infrastructure and visitation management needs could be addressed through cooperative agreements, public-private partnerships, leases, rights of way, easements or financial assistance, according to the bill.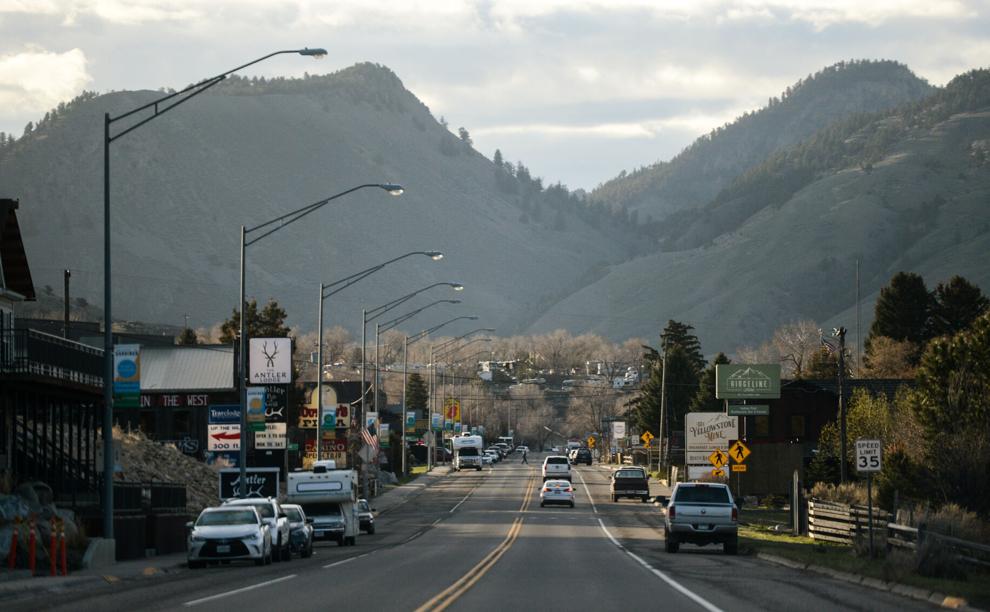 Speaking from a pullout along Dunraven Pass on May 27, Daines said Yellowstone has done a great job of upgrading existing housing, but expanding it is difficult because gateway communities like Gardiner, Cooke City and West Yellowstone are almost entirely surrounded by state and federal land.
The Gateway Community and Recreation Enhancement Act is aimed at beginning the study of and collaboration needed "to find solutions for adding more housing to support national parks and infrastructure," he said.
Daines said the legislation is not a spending bill, but rather an extension of the Great American Outdoors Act, which was centered around maintaining existing infrastructure.
"We're seeing record levels of visitation in our national parks. We are fraying at the edges with our infrastructure, and we've got to keep up with these billions of dollars of backlog of maintenance," he said.
The next steps will be to consider digitizing park passes and to figure out how to invest in employee housing, Daines said — possibly finding more land to build on. He expects it would take an act of Congress to expand the footprint of towns like Gardiner, West Yellowstone and Cooke City.
Sholly said of the bill that when it comes to directing actions on the ground, the devil is in the details, but he applauds any effort to support parks and address workforce recruitment challenges.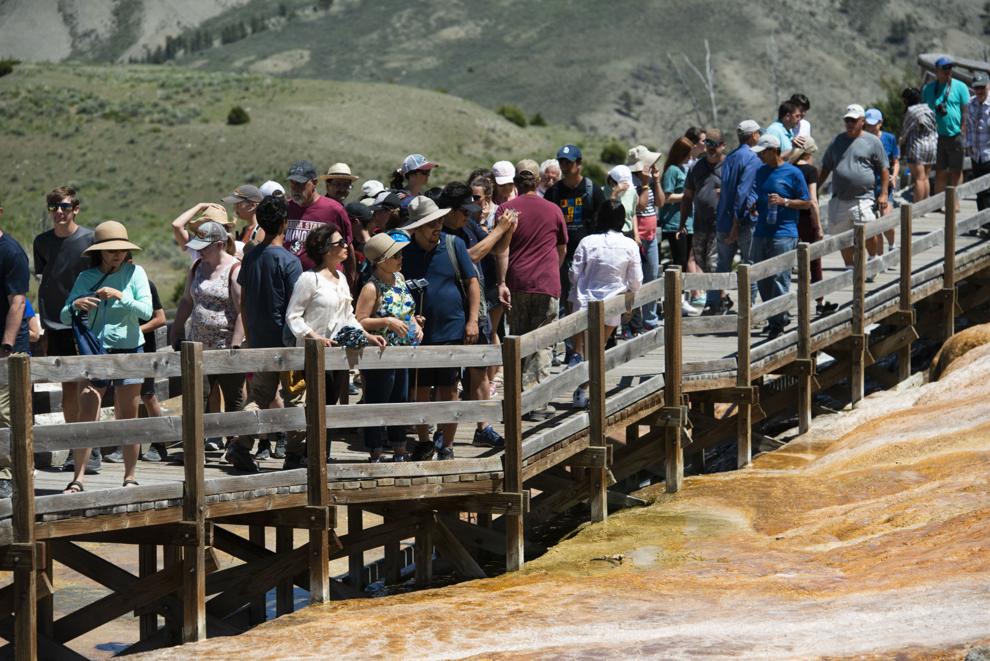 Terese Petcoff, executive director of the Gardiner Chamber of Commerce, said she's glad that gateway towns are being recognized on a national scale, and that people like Sen. Daines are thinking about the impacts that visitation and housing shortages have on residents.
Petcoff believes the Gateway Community and Recreation Enhancement Act's focus on affordable housing will help to build a better sense of community and improve the partnerships between gateway towns and national parks.
"We want people to have a good experience when they come here, and I think this bill will help to further that," she said. "It's very nice to be recognized on this level, and I really hope the bill gets passed and makes it all the way through."
Christina Hazard, associate director for wildlife and natural resources at the National Parks Conservation Association, said she appreciates the attention that Sen. Daines and Sen. King are giving to the challenges related to visitation and employee housing in national parks.
"The intent behind (the Gateway Community and Recreation Enhancement Act) is so important. However, when it comes down to it, the biggest need is really funding," she said. "While we appreciate the intent of this bill, we feel that Congress needs to focus on funding."
National parks and other federal land managers require money to hire more staff. Since most of the funding for the National Park Service comes through the annual appropriations process, that's where Congress can step in, Hazard said.
Hazard pointed out that between 2011 and 2019, the park service lost 16% of its total staff, and at the same time, accommodated a 17% increase in visitation. The agency doesn't have enough people to service visitors in the way that they deserve, she said.
"Superintendents — they are professionals. They are really good at what they do. They are doing the best that they can with what they have, but they need the support and the funding to make it work," Hazard said.
Yablonski, of the Property and Environment Research Center, said the unintended consequence of increasing visitation to Yellowstone and the towns that surround it has been a lack of employee housing, and that could indirectly affect the environment.
"Yellowstone is this world-class icon of conservation, and its employees should reflect that," he said. "If you're trying to find the best-of-the-best wildlife biologist or climate scientist to come to the world's first national park, and they can't find housing — that's going to have an impact on conservation."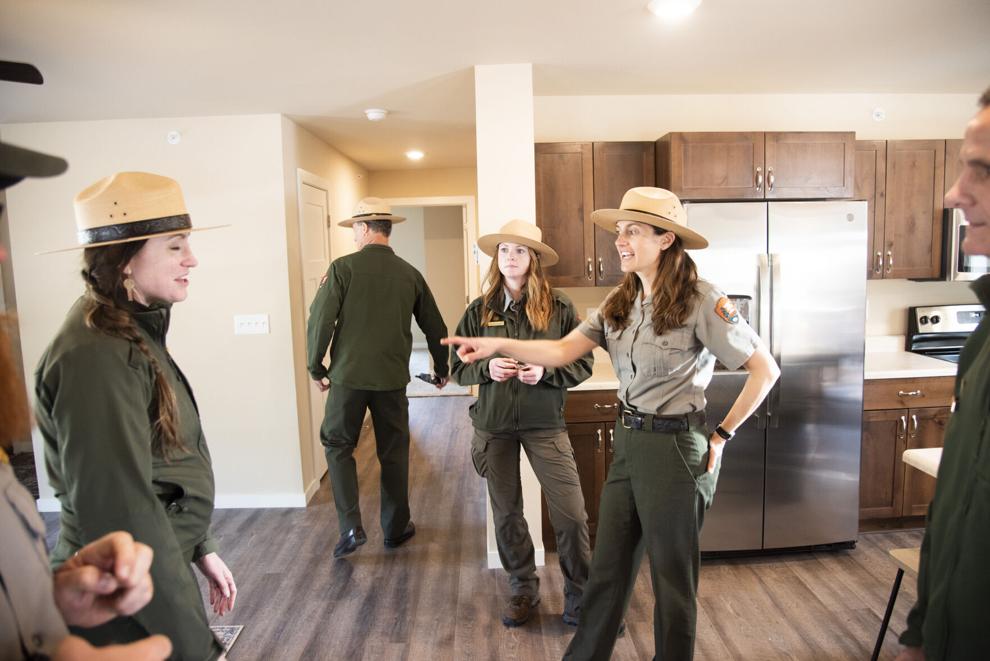 Park County Commissioner Bill Berg said you can't have a community without locals, and as the gap between wages and the cost of shelter widens, it's almost like locals in Gardiner are becoming an endangered species.
A CASPER survey from May 2022 shows that 21% of households in Park County have lived in the county for fewer than three years, and one in three households in the county do not believe their income has kept up with their expenses in the past year.
From raft guides living in tents in national forests to creative dispersed camping solutions to employers building and subsidizing housing for their employees, "everybody is trying everything these days," Berg said.
Park County itself doesn't have tax dollars to throw at housing for employees, and the intense global demand for the humble home in destination areas means the park service "will have to get creative with the rest of us," he said.
Employers and philanthropic organizations like the Human Resources Development Council are helping to provide some affordable housing options, but Berg thinks philanthropy might not be the best long-term solution.
"I just think that rural, wild, beautiful places, especially next to these national parks and forests, are only going to be more desirable, and I think the challenge is going to be trying to keep them intact," he said. "The struggle is real, and I have no easy answers, but boy is it ever important."
[ad_2]

Source link